Bob was born and raised in the Plymouth Meeting area and has been with Blue Bell Driving School for 16 years. Previously, he worked repairing hospital machinery in Montgomery County and the surrounding area. His unmatched familiarity with the entirety of Montgomery County is a tremendous asset as he routinely provides driving lessons throughout the county, concentrating most often in areas such as Plymouth Meeting, Ambler, Lafayette Hill, and King of Prussia.
Bob is great with teen and adult drivers alike. He helped raise his six nieces and taught each to be exceptional defensive drivers. Today, they are all safe licensed drivers. Maintaining a close relationship and being a role model to these six bright young women, has given him unique experience and a great understanding of teens needs and ability to connect with them.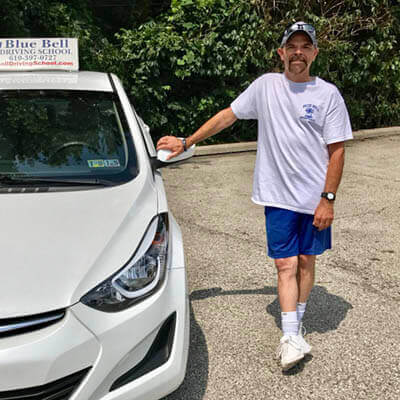 Bob is very calm and has a great sense of humor. He is easy to talk to, especially when it comes to Philly sports! His patient, easy manner has a calming effect on anxious, nervous and novice drivers.  An upbeat and positive attitude helps to make them feel relaxed and confident as they sharpen their driving skills. We receive countless awesome reviews on Bob from parents and students stating how great he is to work with, how he provides expert instruction and insightful tips for driving and parking, and especially how he manages to boost each student's confidence in driving!
Lou has been turning Blue Bell students into excellent, safe drivers for 12 years. Lou covers students in the Collegeville, Douglassville, Schwenksville, Gilbertsville, and Boyertown areas. Lou loves teaching.
Mark and Bob started Blue Bell Driving School in 2001. Mark has years of experience in the trucking industry while Bob served in the US Navy and has years of experience in automobile sales.
Passionate, enthusiastic, and patient to make each student feeling comfortable and confident with the most up-to-date defensive driving advice and information on drive test criteria.
Ken has has been with our company for 5 years, We are told how great he is at teaching students. His professionalism is ever present and his students get the added benefit of great life lessons.
Bob has been with Blue Bell Driving School for 11 years and gives lessons in Plymouth Meeting, Ambler, Lafayette Hill, and King of Prussia. Bob is great with teen and adult drivers alike.
Bringing a wealth of experience and enthusiasm to Blue Bell Driving School. Michael attended Temple University for music education and North Montco Tech to obtain his CDL license. His years as a music educator and CDL driver.